In 2007, Rohit, our CEO, who had previously worked in the Internet and FMCG industries, among others, set up the digital marketing department at global education company Aptech Ltd. It was one of the earliest such departments. It became fairly successful, straddling 13 businesses of the company. It helped grow the company's sales significantly. Based on this experience, when an opportunity arose in August 2010, he and another team member set up Interskale Digital Marketing and Consulting.
The company commenced operations with just one client, in an office space in the western suburb of Goregaon, Mumbai. Five years later we moved to more centrally located premises in Mumbai's suburb, Andheri.
Our founders track record in digital marketing for education helped us initially acquire a few education clients. Later, we tasted similar success with health care. Today we work across sectors.
We have been an active Google Partner agency and have worked with over 50 clients on Google Ads. In 2017, we won Google's Race to Prague contest with Google, entitling some team members to an all expenses trip to Prague.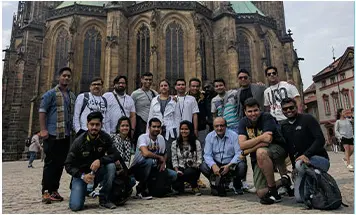 We recruit the best of people from different disciplines. For our creative team, we have recruited regularly from Mumbai's premiere design school, Sir JJ Institute of Arts and for digital marketing, we participate in campus placements at MBA institutes and select the most suitable talent .